ARRIVAL RECORDS TO RELEASE SOUNDTRACK FROM CRITICALLY ACCLAIMED HIT TV SHOW "DAMAGES" FEATURING MUSIC FROM FITZ & THE TANTRUMS, SHARON JONES & THE DAP-KINGS, ED HARCOURT, AND THE "DAMAGES" THEME SONG, "WHEN I AM THROUGH WITH YOU"BY THE VLA.

Soundtrack available July 26, 2011 at all digital retailers.

New Season Premiered on DIRECTV last week.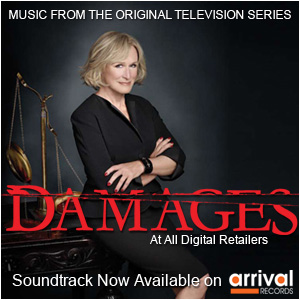 July 19, 2011 – Fitz & The Tantrums, Sharon Jones & The Dap-Kings, Ed Harcourt and others are featured on the soundtrack of the summer – "Music From the Original Television Series Damages" – set to arrive into online retailers on July 26 (to coincide with the launch of season four of "Damages" on DIRECTV by Arrival Records, Ltd. (distributed by IODA/Spindle/RED Distribution).

The album features 10 tracks all of which were featured in a past season or will be featured on this upcoming fourth season, including the much talked about theme song - The VLA's "When I Am Through With You." The soundtrack also includes an exclusive remix of Fitz & The Tantrums' "Breakin' The Chains of Love" and an exclusive version of Ed Harcourt's "Shadowboxing."

The talented artists who contributed to the soundtrack include: Ed Harcourt, Fitz & The Tantrums, Sharon Jones & The Dap-Kings, Greg Laswell, Hellsongs, The VLA, Sea of Bees, Phontaine, My Goodness, and Vic Thrill.

Mark Wike is the show's music supervisor and the soundtrack co-producer along with Jonathan Platt and Craig A. Kessler. Executive producers are Rick Rand, Todd A. Kessler, Daniel Zelman, and Glenn Kessler.

Consistently one of the most critically acclaimed and award-winning programs, "Damages" episodes always feature cutting-edge music and hot new artists. The series revolves around the brilliant yet ruthless lawyer, Patty Hewes (Glenn Close), her protégée, Ellen Parsons (Rose Byrne), and the law firm, Hewes & Associates (located in New York City). Each season features a major case that Hewes and her firm takes on, while also examining a chapter of the complicated relationship between Ellen and Patty. In the first three seasons, "Damages" has garnered numerous television awards, including a Golden Globe for Glenn Close, seven Golden Globe nominations, four Emmy Awards and 19 Emmy nominations.

Commenting on the album, Wike says "the soundtrack features some of the greatest talent from today's vibrant musical landscape, from the rising retro pop/soul Los Angeles star, Fitz & The Tantrums, the passionate and profound, Greg Laswell, to the down and dirty rock sounds of Seattle's, My Goodness and today's REAL queen of soul, Sharon Jones and The Dap-Kings.

The album is a must have for all dedicated followers of Damages and music lovers."

"Arrival Records is excited about releasing the music from this critically acclaimed series which covers some of the best underground and indie bands on the scene today," added Rick Rand, one of the soundtrack's executive producers.

Season four of "Damages" premiered on DIRECTV Wednesday, July 13.

The soundtrack list is as follows:
1. "When I Am Through With You" – The VLA
2. "Un Poco" – My Goodness
3. "Shadowboxing" – Ed Harcourt
4. "You're Gonna Get It" – Sharon Jones and the Dap-Kings
5. "Feels Like Home" – Phontaine
6. "Breakin' the Chains of Love" (remix) – Fitz & The Tantrums
7. "The Gold" – Sea of Bees
8. "We're Not Gonna Take It" – Hellsongs
9. "Africological" – Vic Thrill
10. "Girls Just Want To Have Fun" – Greg Laswell