Milwaukee Talks: Arrival Records' Rick Rand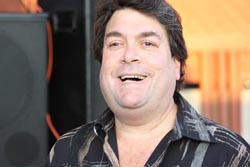 Rick Rand is a veteran of the Milwaukee music scene. But you won't see him posing with a pair of drumsticks in any band photos.

No, after a brief, youthful stint pounding the skins, Rand realized his skills were more on the managing and booking side of the business. And it is there that he has flourished, working with everyone from Luther Allison to Howie Epstein to REO Speedwagon and Styx.

Now, Rand is running the upstart Arrival Records, based right here in Milwaukee. The label's first signing is Wisconsin's own Bascom Hill and the band's self-titled label debut was released yesterday.

But Arrival is also quickly carving out a niche for itself in the industry with its soundtrack CD companions to popular television shows.

"Friday Night Lights: Original Television Soundtrack Vol. 2" was released in May and features songs by the likes of Jakob Dylan, AA Bondy, White Rabbits, John Doe, Sufjian Stevens and The Avett Brothers, among others.

The Avetts also appear on the new "Parenthood: Soundtrack," which includes songs by Bob Dylan, Ray LaMontagne, Wilco, Corrine Bailey Rae, Eels, Josh Ritter, Amos Lee and others. The gem of the disc is a duet of Dylan's "Forever Young" - the show's theme song -- by Doe and Lucy Schwartz.

We asked Rand about his activities in the music scene here and also about the arrival of Arrival and where the label is going.

Enjoy this Milwaukee Talks with local music mover and shaker Rick Rand.

OnMilwaukee.com: What is your background in music here in Milwaukee?

Rick Rand: My musical background grew out of my growing up at home listening to music with my parents. They loved, and still enjoy, all types of music, which was always playing in our home. They also took me to see many of the great musicians that came to Milwaukee, which was very unusual for a kid at such a young age. I was fortunate to see acts like Duke Ellington, Ella Fitzgerald, Louis Armstrong, Buddy Rich and Gene Krupa, plus many others.

One of the coolest experiences was seeing the Beach Boys at the Milwaukee Auditorium in the mid '60s. Those experiences got me into playing drums at an early age, which led to me being in band in 5th grade. From there I formed a few bands with friends and we made a valiant effort to become rock and roll stars.

OMC: When did you make the move from musician to managing?

RR: What I was fortunate to realize back then were my talents were not best suited behind the drum set; they were better utilized making the deals and running the business for the bands. Off I went, managing and promoting various local bands and putting on smaller concerts.

One of the first shows I booked was while I was still in high school. I was on the youth council and managed to get myself into the position of booking all of the bands for school events. One of the first acts I booked was Muddy Waters.

I was a junior at that time and a huge blues fan. Here I was, talking with Muddy Waters, sitting in the locker room before his show, like there was nothing else in the world that could bother us. What an experience.

From then on, I continued to book bands who not only played at my high school, but also for other events and concerts around the area. I eventually wound up working for a local booking agency with another good friend of mine, which led to our relationship with a Chicago-based record label. The label had some great acts under contract that were on the verge of breaking in the Midwest market.

We were the booking agent for some of their acts including: Luther Allison, The Siegal-Schwall Band, REO Speedwagon and Styx. All of those groups went on to have very successful careers, which many of us continue to follow today.

We also represented a select group of Wisconsin bands including; The Ox, Short Stuff and Soup, along with others whose members are still playing around Milwaukee.

I also continued to manage some local musicians and bands including Howie Epstein of Tom Petty and The Heartbreakers, while promoting smaller concerts around the area. I was doing this while managing bookstores and going to UWM.

I continued booking and promoting during a time when other local guys I knew who were also promoters, grew their businesses. Eventually, the owner of the booking agency left town and a few of the bands broke up.

OMC: It sounds like you were happy being in the business, even though you weren't doing it as a musician.

RR: Working with the bands and venues was a great experience and something that I truly enjoyed. It was also a lot of work and consumed very long hours. Even so, I managed to make both the bands and myself a good living at that time. Love and a new career kept me in Milwaukee rather than going west to pursue my passion in music.

OMC: So, what was the impetus to start a label?

RR: I cannot take full credit for starting the label. The band, Bascom Hill was the original impetus to start the label. A good friend of mine had become involved with Bascom Hill through another mutual relationship. They and some members of the band decided it would be a good idea to have their own label.

After some time and discussions between all of us at my friend's lake home, during his summer parties, they asked me to become involved. I agreed to do so since my passion has always been music and I felt that Bascom Hill had great potential. From that point on I have kept focused on not only the potential of Bascom Hill, but how to grow Arrival Records.

I believe that the vision we have for Arrival Records sets us apart from many of the other independent labels. My philosophy is certainly not centered on the old way of doing business in the music industry.

OMC: What is your approach?

RR: I look for unique opportunities that others may choose not to pursue. A successful business today must have a solid team of people behind it along with leadership with vision. We don't need to be the biggest in our field but strive to be the best.

Having said that, I want us to strive to be the best we can, be a customer orientated firm, and considered a trendsetter in the business. I feel that if you don't have the drive or reach for higher levels of success you will never achieve your goals.

OMC: How did the TV show soundtracks come about?

RR: This is one of those opportunities that came out of a quick conversation which I felt had great potential if we tried to do things a bit differently. In February 2009 Bascom Hill was invited to perform at a showcase known as Sunset Sessions in Los Angeles. This is an annual event geared towards music industry supervisors and label representatives along with radio program directors and artist managers.

The band was a smash hit! They were a total unknown act outside of the Midwest at that time. One of the music supervisors and his wife were at the event and were blown away by Bascom Hill. We talked the next day and agreed to follow up in the future.

After a few months, I was a bit frustrated with our progress and called this individual to talk to him about some new ideas I had. We then began to work together on developing those and other ideas for Bascom Hill and also kicked around other concepts.

He had experience working with other companies on soundtracks, which I found very intriguing. One thing led to another and I then decided to pursue this market as another source of business for the record label.

This last year, Arrival Records teamed up with NBC to release the soundtracks for the critically-acclaimed TV series "Friday Night Lights" and "Parenthood," which will be released Oct. 5 physically and digitally on Aug. 31.

OMC: Does this look like it will be an ongoing facet of Arrival's output?

RR: As a small independent label, we have offices in both Milwaukee and Los Angeles which allows us to move very quickly in setting up the soundtrack releases. We are in the midst of setting up a new soundtrack for a highly rated Showtime series to be released in the first quarter of 2011.

OMC: Will Arrival look to develop more homegrown talent?

RR: Many great artists and bands have their roots in Milwaukee. The fact is many of those individuals moved to other areas of the country where there was a greater "perceived" opportunity. I feel that there is and will continue to be a great deal of "homegrown" talent that will rise to the top and we hope to be working with a few of those musicians.

Arrival Records set its roots in Milwaukee and Madison, signing our first act, Bascom Hill, and we feel that there is a deep talent pool here and it's great place to nurture talent. Of course, we are looking at artists from all over but our base is always going to be here. The fact that we have offices in Los Angeles and our distribution partner is in New York, allows us also to provide a national base of operations and opportunities for our label.

OMC: Are there any downsides to doing business from here in an industry almost entirely based on the coasts? Not only in terms of perceptions but also in logistics?

RR: It is correct that the corporate world in film, television and the music business are primarily based on the East and West Coasts. That said, the music business, like many other industries has evolved. The key is to accept this change and embrace it, not work against the impending changes ahead. With today's technology, we can be in an associate's office almost on the spot. We all can communicate from different locations, whether in town, or across country. We don't have to have a big back office and lots of overhead to be effective.

Logistically, if we need to get from Milwaukee to another city that requires air travel we have a great deal of options for flights these days. No matter where you are located, you are always going to have situations that require some creative ideas in order to work more effectively. I think Milwaukee is a great city to work and live and has many, if not more, features than those located on either coast.

OMC: How did the deal with Scion/Fontana come about?

RR: The deal came out of my relationship with another individual who was working with us on the TV pilot "Crash Course to Stardom," featuring Bascom Hill. At the time we were filming we did an impromptu walk on scene with a female singer who was working with Scion Music Group.

That evening, my friend and I went to a charity event for the Teen Music Awards and I ran into one of the principals of Scion. We talked for a while, listened to music and mingled. A few weeks later his partner called me and asked if I would consider speaking with him about developing a relationship with their company.

OMC: Is it fairly difficult or not as difficult as one would think to land a distribution deal these days?

RR: This is another one of those unusual events that led me to a unique opportunity that is a bit outside of the norm. We have been working together for about a year now and are both very excited about how each of our firms benefit from the other's experience and background.

In today's environment I think it will be difficult for a new start up to obtain a distribution deal without having the proper resources and team in place. The labels are spread very thin today and therefore are far more selective on who they partner with than in the past.