Bayside music label finds niche with TV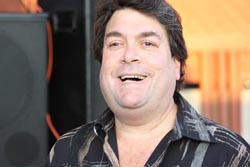 With the music industry reeling from the one-two punch of a shaky economy and the digital music revolution, starting a record label might not seem like the smartest business move.

But one local man who has had success in a very different business says he hopes to find a niche in the tumultuous music landscape with his upstart record label.

"I think what is really key is that the music industry as everyone has known it for 25, 35 years . . . has so rapidly changed that it's a wide-open field," said Rick Rand, 57, who started Arrival Records in Bayside in May.

He said that the uncertainty in the music industry leaves plenty of room for a small record company to tackle the kind of projects that were once exclusive to major labels. So far, he's been banking on TV soundtracks: various-artists compilations of songs that are heard in the background on a particular TV series.

After a music supervisor from the TV show comes up with a list of songs, Rand, who also has an office in Los Angeles, secures the rights to use those songs, then distributes and markets the soundtrack.

Arrival Records made its debut with the soundtrack for the NBC series "Friday Night Lights," followed last week by an album of music from NBC's "Parenthood," including songs by Bob Dylan and Wilco.

On Jan. 11, Arrival will release the soundtrack to the Showtime series "Californication," starring David Duchovny.

Growing up in Whitefish Bay in a house filled with the warm crackle of his parent's records, Rand picked up the drums early, forming rock bands with his friends. But he soon discovered he was more in tune with the rhythm of business.

"We went and formed a bunch of bands and made our gallant effort to become teenage semi-rock stars, and I found out pretty quickly that I wasn't suited to be sitting behind the drum set," said Rand, a Nicolet High School alum. "I was better suited to making the deals and running the business for the bands."

By junior high school, he was making money booking his friends and national acts.

"One of the first guys I booked was Muddy Waters," Rand said. "So here I was, a junior in high school, sitting in the boys' locker room before the show with Muddy Waters like it was nothing."

He withdrew from promoting in the late '70s and spent the next several decades running a successful manufactured homes company and exploring other real estate ventures; he runs Great Value Homes.

Rand's passion for music was reignited in 2007 when he saw a show by the Kenosha-bred, Madison-based rock band Bascom Hill, which had put out some music on its own as Arrival Records. Keeping the label name, Rand released Bascom Hill's new, self-titled CD last month, giving the band national exposure through the new Arrival's distributor, the Scion/Fontana Music Group.

This week, Rand is on the road with Bascom Hill. Although another TV soundtrack is in the works, Rand said he's also keeping himself open to national and local projects.

"I'm always listening," he said. "I think there's a deep talent pool here. It's a great place to nurture talent, and, of course, we're looking for artists all over, but our base is always going to be here."